We do like the BMW i3 and applaud BMW for the bold design and innovation in the doors and materials used.
Well now in line with the ultimate driving machine they have given us a faster i3, the i3s model with revised spension and a Sport mode added to its drive-mode options.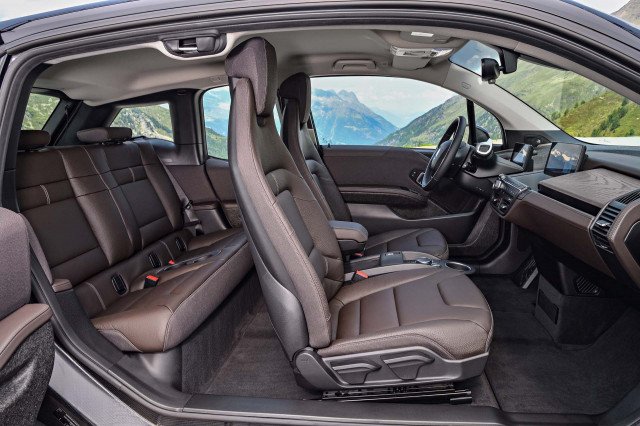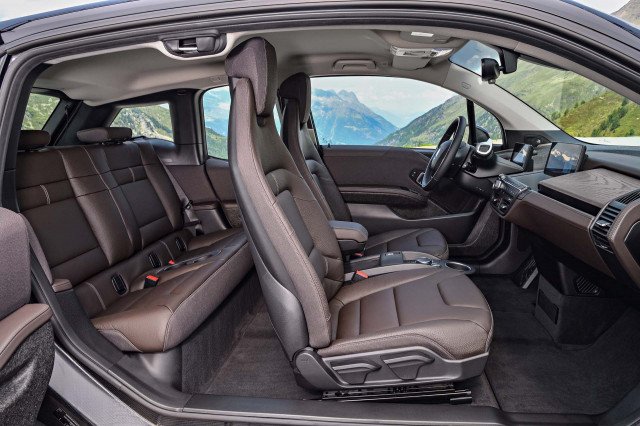 All 2018 i3 models get very mild styling updates, including full LED headlights as standard, plus the updated Version 6.0 of the iDrive interface and some new paint color and interior trim options.
The new i3s sport model can be recognized by a more aggressive look for the front and rear bumpers, as well as a sport-tuned suspension that lowers the car by 10 millimeters and a track that's 40 millimeters wider than the standard model.
The 2018 BMW i3s looks considerably more sporty as a result, though it's most obvious with the two versions sitting side by side. It also offers seat belts in the optional BMW i Blue color, as first used in the BMW i8 plug-in hybrid sport coupe.
But sport models are all about power, and the rear motor of the i3s is rated at 184 horsepower and 199 pound-feet of torque against the 170 hp and 184 lb-ft ratings for the regular model.
Top-end performance is boosted through modified motor-control software. At the motor's top speed, BMW says it performs 40 percent better than the standard i3.
The i3s adds a Sport mode to the standard array of Comfort, Eco Pro, and Eco Pro+ driving options, which tightens the steering response and sharpens the throttle response.
BMW says the i3s is 0.4 seconds faster to 60 mph than the standard car, at 6.8 seconds from 0 to 60 mph, and has a top speed of 100 mph, versus the usual 93 mph.
In other changes, the most recent update to the iDrive controller interface, Version 6.0, offers what BMW says will be more intuitive commands for infotainment, communications, and navigation functions.
The i3's voice-recognition system has added cloud-based off-board processing for better comprehension.
As before, the 2018 BMW i3 range continues to offer various electronic active-safety systems as standard or optional features.
Those include adaptive cruise control, collision warning, pedestrian detection, and a system that parks the car automatically when directed.