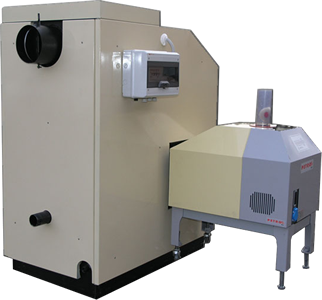 Business is hotting-up for the Biomass Energy Co-operative as it introduces the next generation of multi-fuel biomass boiler to the UK market.
The new technology, is expected to extend the possibilities for biomass energy generation by burning olive pits, straw pellets and, locally sourced waste from agricultural work as well as traditional wood fuel.
Offering a low-carbon alternative and a move away from fluctuating fossil fuel prices, the new product, 'MultiBio', can be used for a variety of commercial and rural businesses and, for large-scale industrial installations.
Grant Miller, Sales Director at the Biomass Energy Cooperative, said: "Bringing theUK's most flexible multi-fuel biomass boiler to market is an exciting development for us.
"Interest from farmers, community and leisure groups and, the general public has been fantastic. People are genuinely amazed at how much they can save and, when combined with initiatives such as the Renewable Heat Incentive (RHI), more and more people are now seeking to reduce their exposure to the vagaries of fossil fuel prices and do their bit to combat climate change by exploring the installation of renewable energy alternatives.
"In addition, we also invite farmers and bio waste producers to come and visit our testing facility where we can establish emission levels and suitability of their bio waste as a fuel."
The Biomass Energy Cooperative was formed earlier this year and set up with support from The Co-operative Enterprise Hub.
TheUKis witnessing resurgence in such co-operative-led solutions to the running of businesses and services. Figures show a near ten per cent increase inUKco-operative enterprises – rising from 5,450 (in 2010) to approaching 6,000 (5,933) in 2011, with a combinedUKmembership up by 5.5 per cent to 13.5 million people.
The Co-operative Group, theUK's largest member-owned organisation, has committed a further £4m, between 2013-15, to developing The Co-operative Enterprise Hub service to provide free professional training and advice to help more member-owned enterprises to get off the ground or grow – It has assisted 1,000 enterprises since it launched in 2009. 
Michael Fairclough, Head of Community and Co-operative Investment at The Co-operative, said: "The Co-operative Enterprise Hub is working to support and encourage co-operatively-owned renewable energy projects, equipping people with the tools to control, generate and benefit from renewable energy. We want to see a step-change in people's thinking about energy and, help to inspire others to take action – providing a catalyst for a clean energy revolution across theUK."
For more information visit www.biomassenergy.coop
Other community groups interested in co-operative solutions to the running of businesses and services can contact The Co-operative Enterprise Hub by visiting www.co-operative.coop/enterprisehub