Last year 2015 looks as if a record number of cars rolled off the forecourts at British car retailers as rising consumer confidence, low fuel prices and easy credit helped the market's continued growth.
UK car sales have staged a remarkable runover the past four years, with 43 consecutive months of growth only broken in October, when sales dipped about 1 per cent versus the same month a year ago.
But that did little to stop 2015 toppling the previous record as the industry posted strong figures for November and December — traditionally a quiet time of year. Widely leaked figures, expected to be confirmed later today are expected to show that more than 2.6m cars were registered in 2015 — up more than 6 per cent on 2014  and better than the previous record set in 2003, when 2.58m vehicles were sold.
Mike Hawes, chief executive of the Society of Motor Manufacturers and Traders, attributed the figures to consumer confidence at its highest level in years, combined with wage growth, low unemployment, and petrol and diesel prices below £1 per litre.
"It's the same story we've been talking about throughout the year," he said. "That level of confidence that is there is certainly fuelling the market."
Against the backdrop of a steadily rising UK economy, ultra-low interest rates are encouraging people to borrow again, and around 80 per cent of new car registrations are now backed by some sort of finance package. About three quarters of those loans take the form of personal contract purchases, where the customer pays a deposit and covers the depreciation of the vehicle in monthly payments — typically over three years — often before rolling the scheme over to a new vehicle.
Top selling UK cars:
Ford Fiesta – 124,457 registrations in 2015
Vauxhall Corsa – 85,163 registrations in 2015
Ford Focus – 78,834 registrations in 2015
Volkswagen Golf – 68,593 registrations in 2015
Nissan Qashqai – 57,565 registrations in 2015
Volkswagen Polo – 51,725 registrations in 2015
Vauxhall Astra – 48,628 registrations in 2015
Audi A3 – 45,327 registrations in 2015
MINI – 41,705 registrations in 2015
Vauxhall Mokka – 40,995 registrations in 2015
Data from November
ULEV
The Ultra Low Emissions sector continues to grow at an astounding rate. The ULEV* market as it is called, covers a range of vehicles, all plug-in hybrids, as well as pure electric cars.  Currently – Audi A3, BMW i3 and i8, Mitsubishi Outlander, Nissan Leaf and NV van, Renault Zoe, Twizy and Kangoo Van, Prius Plug In and VW Golf GTE, e-Golf and e-Up.
Data for the first half of 2015 from SMMT shows 11,842 ULEVs were registered between January and May – a four-fold rise on the 2,838 registrations in the same period last year. The growth is further evidence of UK car buyers' increasing awareness of the significant benefits of driving a ULEV, as they look to reduce their running costs and environmental impact. Buyers can now choose from a diverse range of around 20 ULEVs, compared to just six in 2011.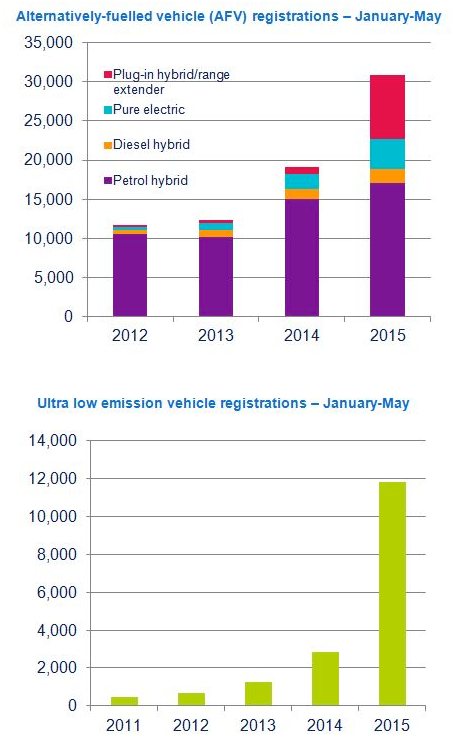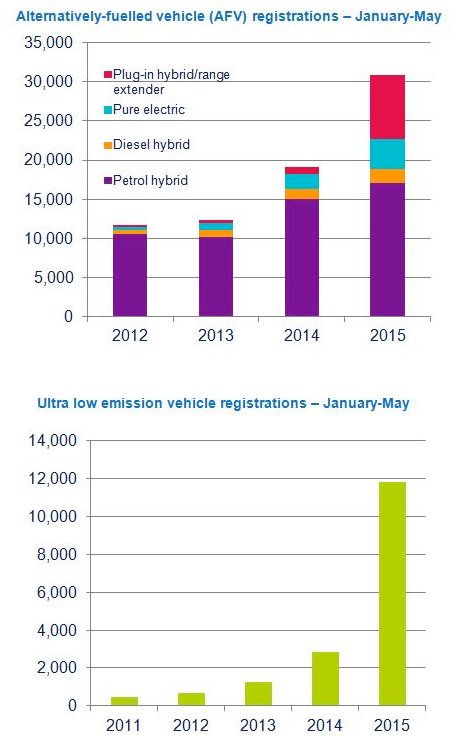 *An ultra-low emission vehicle (ULEV) is a vehicle which produces 75g or less of CO2 per kilometre from the tailpipe. Currently all ULEVs are plug-in vehicles.
It's not just the UK on a car buying binge:
U.S. car sales in 2015 jumped to a record, clearing a peak last reached 15 years ago as cheap gas, strong employment gains and low interest rates spurred Americans to snap up new vehicles.
In all, auto makers sold 17.5 million cars and light trucks in the U.S. last year, a 5.7% increase, and on average paid more for each one. Americans overall spent about $570 billion on new rides—fueling an industry revival that is putting more money in the pockets of auto workers, dealers and executives.
With gas hovering around $2 a gallon nationwide and credit plentiful, auto makers are projecting a continuation of the robust demand for higher-margin pickup trucks and sport-utility vehicles now fattening their bottom lines. Those larger vehicles account for more than half of U.S. sales, pushing the average transaction price to $34,428, according to automotive data provider Kelley Blue Book.