With Tesla and Solar City merging after the Tesla purchase the combined company will be looking to get its balance sheet more in order.
Both companies have a huge appetite for cash burning. Factories are highly expensive, especially when they are vast. Both Tesla with Giga Factory and Solar City with a Solar Module plant in New York are spending cash left right and centre. With the merger looming the combined outfit is seeing an opportunity to free up some cash and bring in a partner.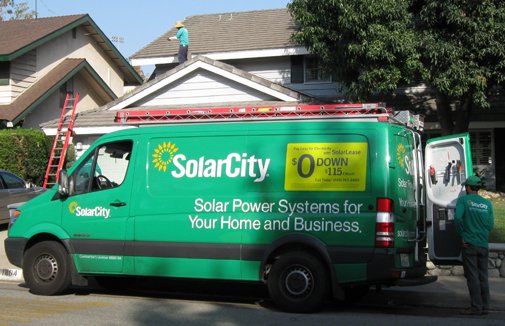 Tesla and Panasonic have entered into a non-binding letter of intent under which they will begin collaborating on the manufacturing and production of photovoltaic (PV) cells and modules in Buffalo, New York. Under this agreement, which is contingent upon shareholders' approval of Tesla's acquisition of SolarCity, Tesla will use the cells and modules in a solar energy system that will work seamlessly with Powerwall and Powerpack, Tesla's energy storage products. With the aid of installation, sales and financing capabilities from SolarCity, Tesla will bring an integrated sustainable energy solution to residential, commercial, and grid-scale customers.
The parties intend for Panasonic to begin PV cell and module production at the Buffalo facility in 2017. Tesla intends to provide a long-term purchase commitment for those cells from Panasonic.
The collaboration extends the established relationship between Tesla and Panasonic, which includes the production of electric vehicle and grid storage battery cells at Tesla's Gigafactory.
JB Straubel, Chief Technical Officer and Co-founder of Tesla, said "We are excited to expand our partnership with Panasonic as we move towards a combined Tesla and SolarCity. By working together on solar, we will be able to accelerate production of high-efficiency, extremely reliable solar cells and modules at the best cost."
Shuuji Okayama, Vice-president, Eco Solutions Company of Panasonic, added, "Panasonic PV cells and modules boast industry-leading power generation performance, and achieve high quality and reliability. We expect that the collaboration talks will lead to growth of the Tesla and Panasonic relationship."
The continued partnership between Tesla and Panasonic is an important step in creating fully-integrated energy products for businesses, home owners and utilities, and furthers Tesla's mission toward a sustainable energy future.
Read fill release at Tesla Blog.
Save
Save