Yes the second all electric VW is now on the road. Hot on the heels of the ID 3 comes the ID 4.
VW claim that the all-new ID.4 combines the practicality of an SUV and the sustainability of an electric car. It delivers all the SUV benefits you need, including space and performance, while being kinder to our environment.

The exclusive ID.4 1ST Edition is open to order now for £37,800†including the government's Plug-In grant. Additional ID.4 models with prices from around £32,000†, including the grant, will be available later this year.
The ID.4 has a range of up to 310 miles.  As for acceleration, the Pro Performance-based models with 150 kW (204PS) system power go from 0 to 62 mph in only 8.5 seconds. No shifting, no delay – power is transmitted smoothly and effortlessly.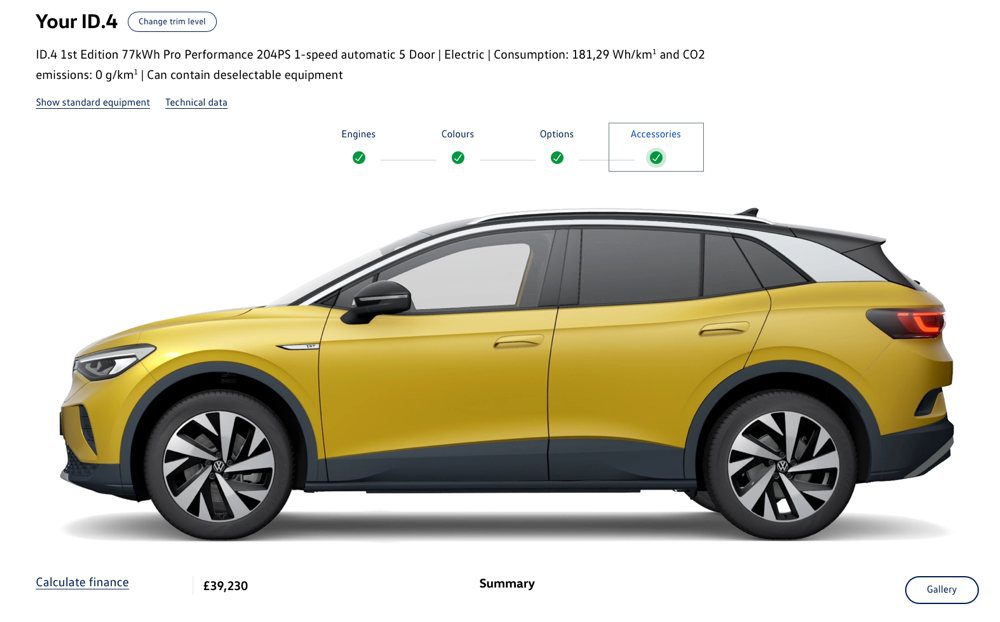 Using the VW car configurator we can spec out the ID 4. Amusingly the first tab is Engine. I guess VW cant edit the global car configurator and engine is default rather than Power or Battery and Motor. 
The Id 4 has a 77KWh pack. VW claim 181.29 Wh/KM so with this handy data we can calculate that the ID 4 should give you. 77K / 181 or 425 KM. This seems high. The specs offer 310 miles on the WLTP scheme. 
On the road price in the fetching yellow is close to £40,000. Interestingly you can spec an Energy efficient heat pump for £1250. No details of benefits other than:
Auxiliary heating with timer, without parking heater (water circulation)
You can also spec a Mode 2 – Type2 charging cable with 3 pin plug for £180. If you need an EV charging Cable much better deals are available from Cables For Charging. 
Looking at the ID 4 website you would be hard pushed to find the range or event price. There is plenty of pretty pictures and vague statements like Electricity keeps you ahead and Start with a carbon-neutral balance. Yeah great.
It is as if they don't want to see the ID 4 ir ID 3 to many people. YOu have to know that they are available for sale to buy them. 
We look forward to seeing the ID 4 in the flesh.