Everybody wants more for less. That is apparently why more and more value seeking consumers are turning to pre-owned smart cars. There are some good reasons that pre-owned smart cars are moving quickly from area car dealers. One of the biggest is that the innovative, distinctive looking vehicles are being embraced since an approved used smart can now be purchased at 0% APR from smart dealers. The 0% finance offer is for up to three full years. That's an attractive offer for any vehicle, especially a used one. It makes a pre-owned smart particularly attractive.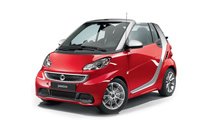 The smart car was introduced in 1998, and for over 15 years it has been a trendy choice for those looking to make a statement about the environment. This is in great part due to its extremely economical use of petrol. Others have turned to a smart fortwo because it is perhaps the ultimate commuter vehicle that is exceptionally simple to park. It demure size also makes finding parking spaces a bit easier, particularly in large cities. Whilst you won't find extravagance and exotic amenities in a smart fortwo, you will find an exceptionally affordable mode of transportation that many have found to be reliable and fun.
The 0% finance offer is bringing in a variety of buyers for the smart cars, but there are other reasons the pre-owned smart is getting so much attention recently. Buyers get complimentary 12 month roadside assistance, a year-long unlimited mileage warranty, and MOT test failure cover. These are proving to be popular perks, especially on a used vehicle. Smart dealers apparently are comfortable in providing these additional perks due to the rigorous multi-point inspection each vehicle undergoes prior to being offered for sale. In addition, each vehicle has its mileage and history verified. Smart dealers are even offering a 30 day, 500 mile exchange program for those who may discover another smart fortwo they like.
This 0% APR smart car on finance offer on approved used smart cars is certainly gaining attention from consumers. It appears to be another way in which the automaker is setting itself apart. It is also another way in which they are giving car buyers more for less.
We know that smart is providing their new and used car customers with value. What is next for the smart car? You can find out in this article from the Telegraph. It has details and photos of the new 2014 smart fourjoy concept car. The car made its debut at the Frankfurt Auto Show and it gives some indications as to what smart enthusiasts can expect in the future.