Last week Tesla held its AI update day
At AI Day Tesla unveiled an ambitious plan to complete the vertical integration of every component of its hardware and software stacks, from silicon, training cluster and compiler to driving simulator. If fully implemented in 2022, Tesla would be the most deeply integrated "automotive company" in the world.
Tesla showed custom chip design with the D1, an ASIC designed from the ground up specifically for AI training, optimising for low latency and high bandwidth. With System-on-Wafer packaging technology similar to that of Cerebras, Tesla combines 25 D1s on a single training tile for a whopping 9 petaflops of compute power. A bespoke compiler designed to harness the D1's custom instruction set architecture should be able to train Tesla's neural nets with best-in-class hardware utilization.
Four Key points:
D1 Chip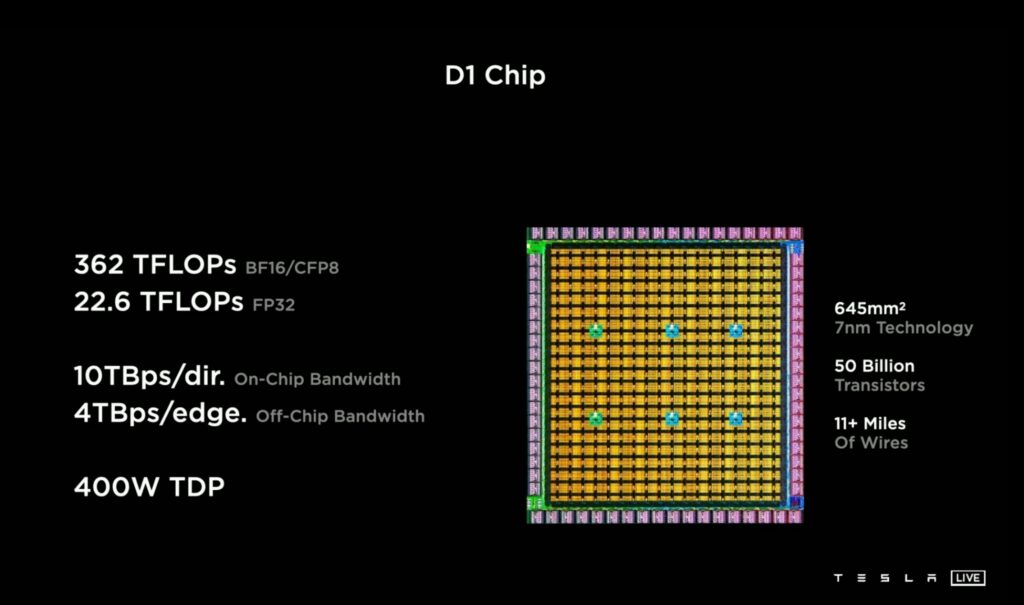 Tesla director Ganesh Venkataramanan unveiled Tesla's computer chip, designed and built entirely in-house, that the company is using to run its supercomputer, Dojo. Much of Tesla's AI architecture is dependent on Dojo, the neural network training computer that Musk says will be able to process vast amounts of camera imaging data four times faster than other computing systems. The idea is that the Dojo-trained AI software will be pushed out to Tesla customers via over-the-air updates.
The chip that Tesla revealed on Thursday is called "D1," and it contains a 7 nm technology. Venkataramanan proudly held up the chip that he said has GPU-level compute with CPU connectivity and twice the I/O bandwidth of "the state of the art networking switch chips that are out there today and are supposed to be the gold standards." He walked through the technicalities of the chip, explaining that Tesla wanted to own as much of its tech stack as possible to avoid any bottlenecks.
Aside from limited availability, the overall goal of taking the chip production in-house is to increase bandwidth and decrease latencies for better AI performance.
"We can do compute and data transfers simultaneously, and our custom ISA, which is the instruction set architecture, is fully optimized for machine learning workloads," said Venkataramanan at AI Day. "This is a pure machine learning machine."
Venkataramanan also revealed a "training tile" that integrates multiple chips to get higher bandwidth and an incredible computing power of 9 petaflops per tile and 36 terabytes per second of bandwidth. Together, the training tiles compose the Dojo supercomputer.
Self Drive at some point
Many of the speakers at the AI Day event noted that Dojo will not just be a tech for Tesla's "Full Self-Driving" (FSD) system, it's definitely impressive advanced driver assistance system that's also definitely not yet fully self-driving or autonomous. The powerful supercomputer is built with multiple aspects, such as the simulation architecture, that the company hopes to expand to be universal and even open up to other automakers and tech companies.
"This is not intended to be just limited to Tesla cars," said Musk. "Those of you who've seen the full self-driving beta can appreciate the rate at which the Tesla neural net is learning to drive. And this is a particular application of AI, but I think there's more applications down the road that will make sense."
Musk said Dojo is expected to be operational next year, at which point we can expect talk about how this tech can be applied to many other use cases.
Computer Vision
During AI Day, Tesla backed its vision-based approach to autonomy yet again, an approach that uses neural networks to ideally allow the car to function anywhere on earth via its "Autopilot" system. Tesla's head of AI, Andrej Karpathy, described Tesla's architecture as "building an animal from the ground up" that moves around, senses its environment and acts intelligently and autonomously based on what it sees.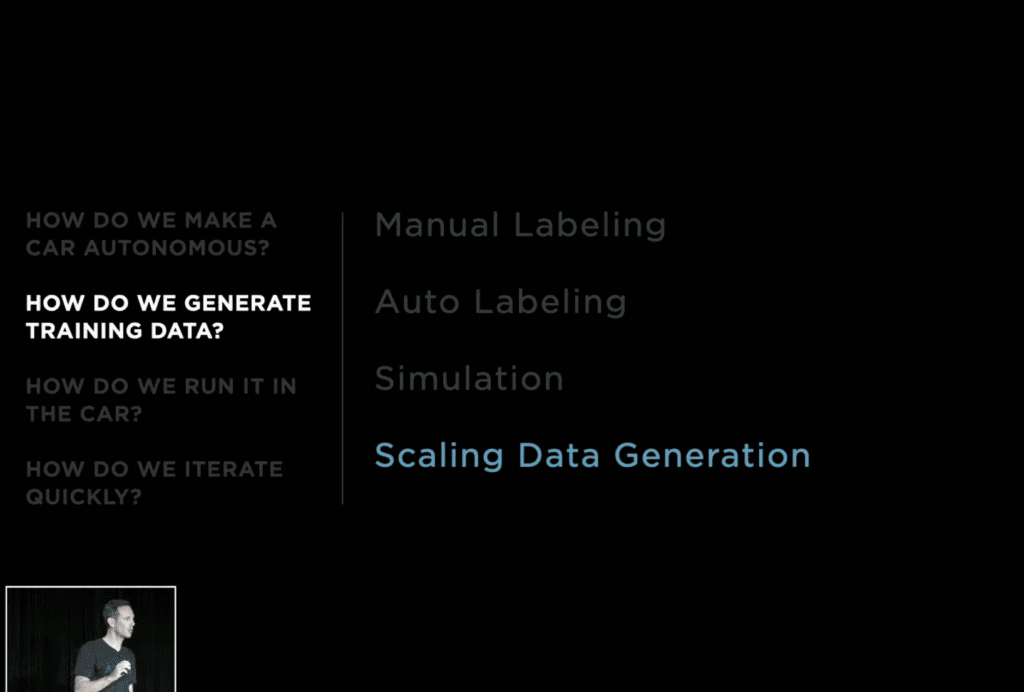 Tesla Bot
Not to be outdone by Honda with Asimo, Tesla is planning to launch its own robot – The Tesla bot.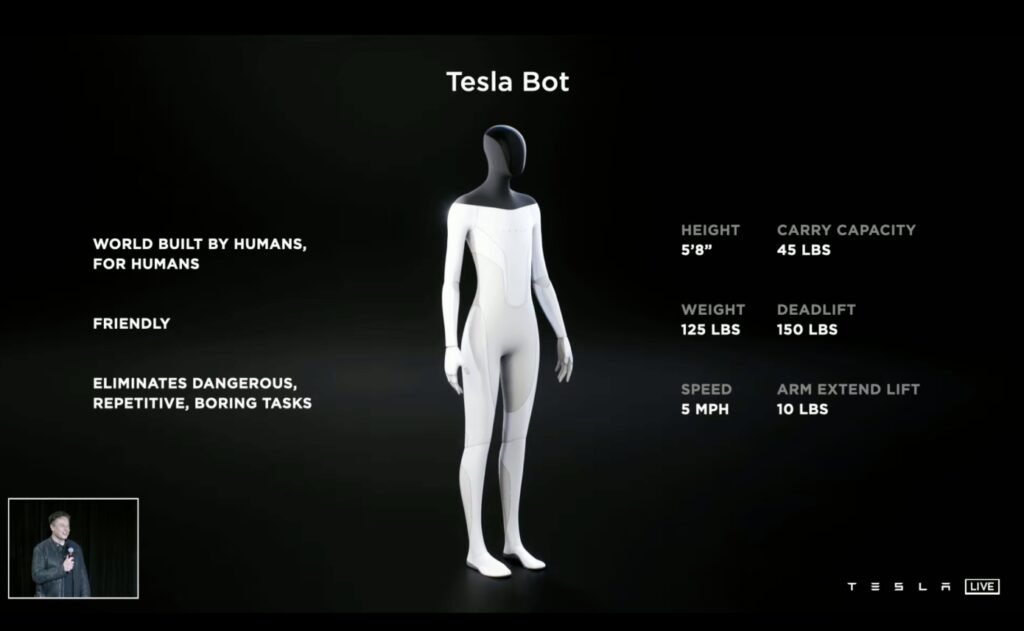 CEO Elon Musk envisions a world in which the human drudgery like grocery shopping, "the work that people least like to do," can be taken over by humanoid robots like the Tesla Bot. The bot is 5'8″, 125 pounds, can deadlift 150 pounds, walk at 5 miles per hour and has a screen for a head that displays important information.
"It's intended to be friendly, of course, and navigate a world built for humans," said Musk. "We're setting it such that at a mechanical and physical level, you can run away from it and most likely overpower it."
The bot, a prototype of which is expected for next year, is being proposed as a non-automotive robotic use case for the company's work on neural networks and its Dojo advanced supercomputer.
Catch the full AI Day presentation below.
Sources:
Tesla AI Day – On IR section under Other Events