Tesla have a problem with how to ramp production of the Model 3. Since the first showing on March 31st this year Tesla has been swamped with orders that may well be over 500,000 by now.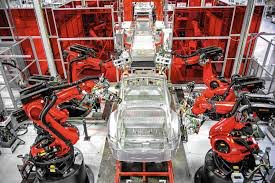 In order to bring production in line with market demand Tesla have hired Audi manufacturing guru Peter Hocholdinger.
According to the company's statement on Friday afternoon:
Peter will be responsible for continuing to increase and improve Model S and Model X production, as well as help build a scalable, cost-effective and quality manufacturing program specifically designed for Model 3.
Peter joins Tesla from Audi where he has spent the last 22 years working across the entire production chain. He is currently responsible for leading the production of Audi's A4, A5 and Q5 vehicles, including 14 derivatives of those models, at Audi's flagship production facility for volume and technology.
In total, Peter is responsible for the production of about 400,000 vehicles annually at Audi while managing thousands of employees. Peter has also been serving as an advisor for bringing Audi's new production facility online in Mexico, guiding the implementation of the production processes that are responsible for the standard of quality expected at Audi.
Hocholdinger replaces Tesla's outgoing vice president of production, Greg Reichow, who is taking a leave of absence for what a company spokesperson called "a well-deserved break."
Hocholdinger's main task will be to prepare the company's assembly plant in Fremont, California, for high-volume production of its upcoming 200-mile Model 3 sedan, which is scheduled to go into production before the end of 2017.
He will have his work cut out for him: Tesla CEO Elon Musk said on the company's quarterly-earnings call last week that it had pulled forward its date for achieving a production rate of 500,000 cars a year from the end of 2020 to the end of 2018, less than three years hence.
By comparison Tesla Motors delivered slightly more than 50,000 vehicles in 2015. To ramp to 500,000 car per yeas represents an order of magnitude increase in productiuon. Peter will be a busy man.