We are at 11%
The European plugin market is growing fast, having registered over 97,000 registrations in August (+171% YoY),
 placing last month plugin share at 11% share (5.7% BEV)
, and pulling the 2020 PEV share to 8.4% (4.5% for BEVs alone). Thanks to data from EV Sales Blog.
And the best selling EV for Aug was the
Tesla Model 3
that saw just over 7,000 new customers during August. Main markets for the Model 3 were
Germany (2,824 units), the UK (950) and The Netherlands (609).
Second best seller was the
Zoe
with 6,100 units from Renault.
Germany (2,210 units), followed by France (1,618 units), Italy (509) and the UK (350)
.
In third place the Ford Kuga PHEV – The Kuga PHEV (Euro-spec Ford Escape PHEV), is doing wonders for Ford, as the carmaker finally found a plugin success story in Europe, in August the compact crossover scored 5,055 registrations, earning its 4th Best Selling PHEV monthly title in a row, making it the new reference in the plugin hybrid field.  Germany (1,588 units), Denmark (1,509 units, Best Selling model in the overall market!) and the UK (350).
With the Kuga PHEV usable electric range and competitive pricing, the Ford model is now one of the best value for money plugin hybrids out there. 
Next best seller the Hyundai Kona EV – Chronically limited by production constraints, Hyundai has finally opened the floodgates for its small crossover, thanks to the new Czech plant production, scoring 4,054 deliveries in August and allowing another Top 5 standing.
After the waiting list being finally emptied (by September?), we will finally start to see the real demand level of the small crossover (3,000/month?). Back to August, Germany was by far the best market for the Hyundai nameplate, with 1,397 deliveries, followed by France (420 units) and Norway (408). 
And in 5th place the
Mercedes A250e
 – Thanks to competitive pricing (for a Premium brand), usable electric range (64 kms / 40 mi WLTP), and even CCS availability, the compact Mercedes has become the maker star player, with August registering a record 
3,505
 units, it's second record performance in a row, with the biggest market being its homeland Germany, with 1,939 registrations, followed by France, with 260 units, and the UK (253 units).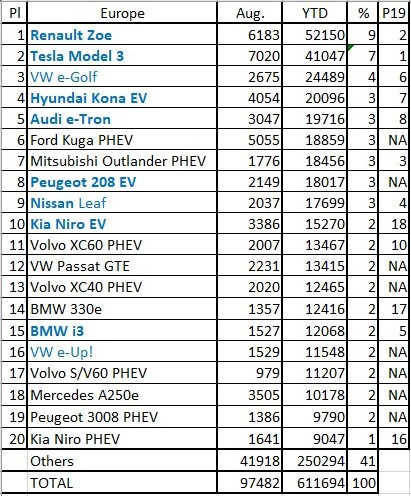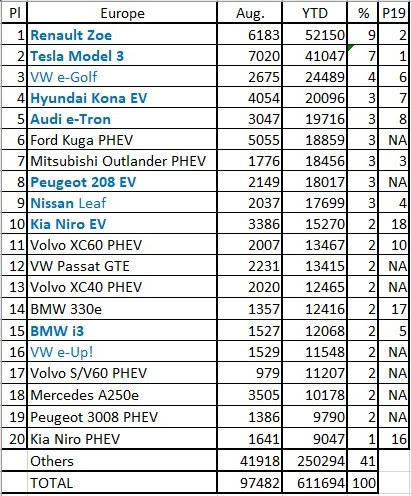 More and more manufactures are pushing the PHEV concept and with the VW ID3 finally on the market we can only expect the Electric share to continue growing.