Nikola is not a completely new name in the automotive industry. For years, the startup has promised to change the world with fuel cell and electric semi-trailers, and in recent months investors have joined in as the search for the next Tesla has heated up.
After years of using proprietary technologies like 'breakthrough' battery technology, cheap hydrogen fuel and more, a new report claims the company never had much.
Nikola – a short history
Nikola was founded by Trevor Milton in 2014 in Utah to build Hydrogen power semi-trucks and a US wide Hydrogen fuel supply network. A bold ambition. It then expanded into an all Electric Pick Up Truck. Both designs looks great.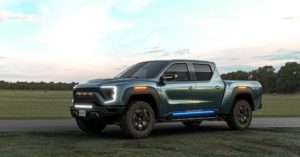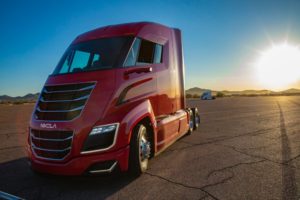 In late November 2018, it announced plans for a Nikola World event for  2019, in nearby Scottsdale, Arizona. The two-day midweek event was to have included a Public Demo Day to show off the Nikola Two truck and the Nikola Electric SUV.
In March 2019, Nikola acquired a 389-acre parcel in Coolidge, Arizona, for US$23 million, with future state and local tax breaks. Nikola said that they expected the truck factory to start construction in 2020, start building trucks in 2021, and be able to build 35–50,000 trucks per year by 2023.
In March this year, Nikola announced its plans to merge with VectoIQ Acquisition Corporation a publicly traded special purpose acquisition company run by former General Motors Co. executive Steve Girsky. This resulted in the combined company being listed on the NASDAQ exchange with the NKLA ticker symbol. Nikola's stock began trading on June 4, a day after the merger was completed. By June 9, the shares had more than doubled since they began trading, as investors continued to bet on the growth potential of electric transportation. Nikola executive chairman Trevor Milton tweeted in early June that the company would begin taking reservations for the pickup truck, the Badger, on June 29.
The company was valued at around $13 billion in early August 2020, compared to its revenue in the first six months of 2020 of $80,000 ($36,000 of which was attributed to installation of solar facilities for CEO Milton).
On September 8, 2020 Nikola and General Motors announced a partnership, by which GM would acquire an 11% stake in Nikola (valued at approximately $2 billion at the time of the announcement). GM would also earn the right to nominate one member to Nikola's board. In return, GM has agreed to use its manufacturing facilities to begin production of the Badger, as well as supply Nikola's hydrogen fuel cells globally.
That's correct a company with no revenue that has never delivered a working prototype let alone a complete vehicle was worth close to $20B.
You can place an order for the Pick Up. Just head over to Nikola and part with $5,000. Estimated cost are ¢60K for BEV or $80K for a Fuel Cell powered pickup.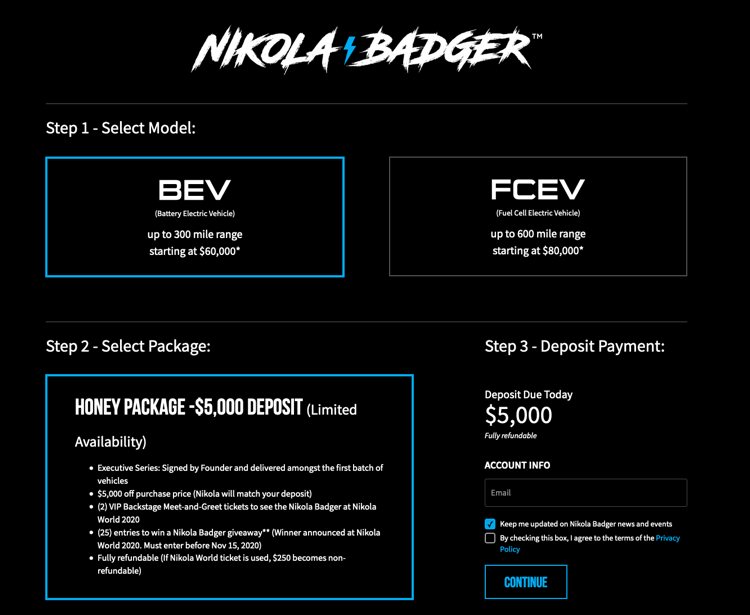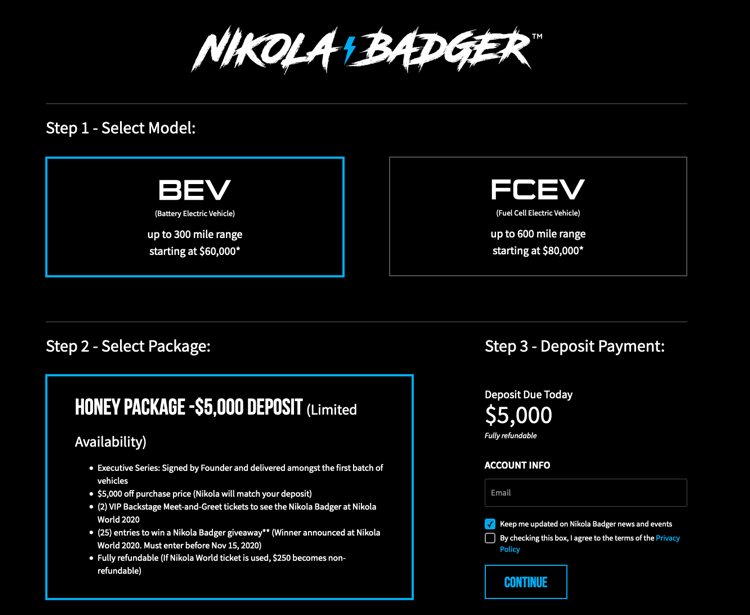 Bombshell
A highly detailed report published earlier today from forensic financial research firm and Short Seller Hindenburg Research shows strong evidence that Nikola and its founder Trevor Milton have not been fully open about its trucks or systems. transmission.
Hindenburg has compiled a detailed account of Nikola's early days, predating the company itself and delving into Milton's past business activities. Hindenburg accuses Milton and the company of "complex fraud" and provides recorded phone conversations, text messages, emails and legal documents to back up his claims. This follows a Bloomberg report, confirmed by Hindenburg, which revealed details of how Milton and the company exaggerated the Nikola One's abilities.
A trail of proprietary technology that never existed, over-inflated contractual agreements and exaggerations of employee experiences propelled Milton to early success, evidence from Hindenburg shows. After creating Nikola, Milton worked on over-threshing or over-promising the capabilities of his upcoming semi-trailers and passed off equipment, such as inverters, as in-house designed components.
The Nikola One, for example, was never a moving truck, according to the report's evidence. Despite Milton's claims that the truck was "not a pusher" and moved on its own, there is no evidence to suggest this is the case. In fact, a video used to show the truck moving at what looked like freeway speeds was shot downward with camera tricks. The semi drove with momentum, not on its own. The infotainment screens, which Roadshow's Emme Hall saw in person during the One unveiling, were powered by a concealed cable. The rest of the tech was a mockup, and the internal components were put together using basic hardware parts, according to the report.
Perhaps worse, the One never had a hydrogen fuel cell powertrain at all. A body was hiding natural gas turbines, according to the report's sources, which include former Nikola employees. Instead, Nikola inscribed stenciled hydrogen decals on the truck's body to inflate the suggestion that a revolutionary fuel cell powertrain was underneath, according to photographic evidence provided in the report.
Fishy
The report also sheds light on Nikola's order books. The company has long claimed that US Xpress accounts for the majority of its orders with 14,600 trucks. Hindenburg's investigation into US Xpress's finances found he had $ 1.3 million in cash, barely enough to cover a $ 3.5 billion order for semi-finished by Nikola. The report also details the end of a relationship with Ryder for truck maintenance for Anheuser-Busch and clarifies that an agreement for 2,500 trucks for Republic Services is for electric trucks and not hydrogen vehicles. What remains unclear is what exactly happened to 7,000 pre-orders that were supposed to be backed by deposits for the One. In 2018, Nikola's chief financial officer left the company and took legal action. A month after the trial, Nikola said he would refund all One pre-orders. Legal documents remain sealed to this day, and Nikola ditched development of the One and instead touted the Two semi.
Indeed, the evidence indicating that Nikola does not have its own hydrogen or battery technology GM partnership more legs. It's unclear what GM actually gets out of the deal, other than the ability to cash in on the startup hype. Nikola, meanwhile, is getting supplies – batteries for his promised van and fuel cell technology for his semi-finals. Nikola surely wouldn't need the hardware if he was developing the technology in-house over the past five years.
Stock down
Since the report was published this morning before the open the stock has fallen 15%.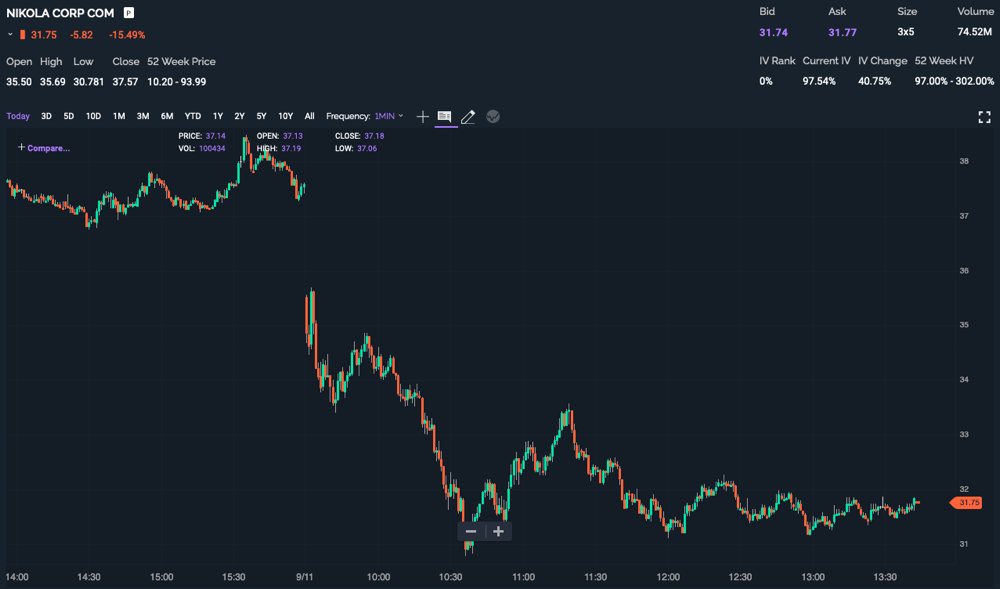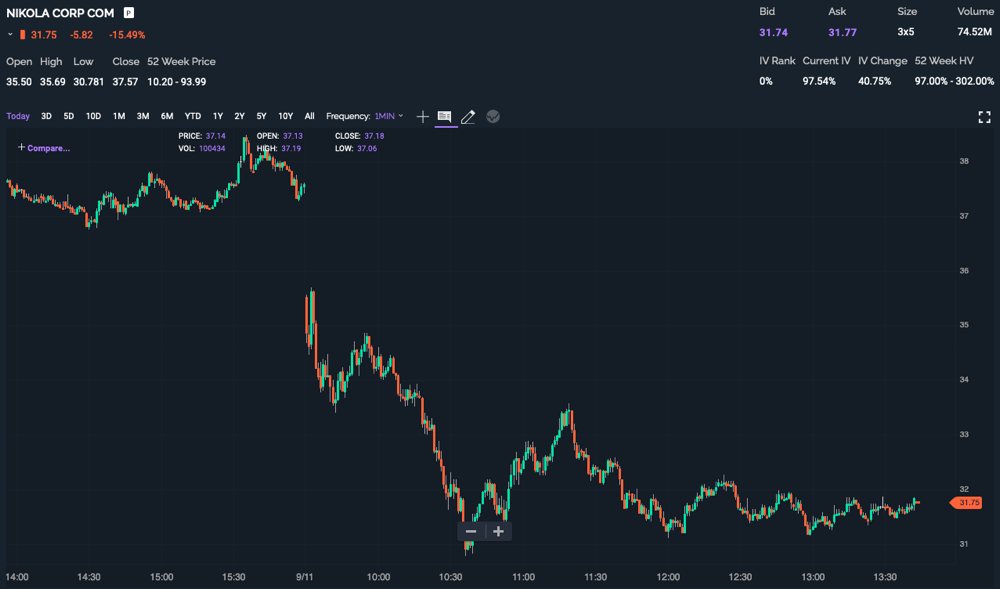 Press Coverage
Even the Daily Mail has covered the 'fraud' with a juicy headline:
Electric truck start-up Nikola – that has received $2bn in funding from GM – is an 'intricate fraud' that faked an ad by rolling one of its trucks downhill because it didn't have engine – and edited footage to make road look flat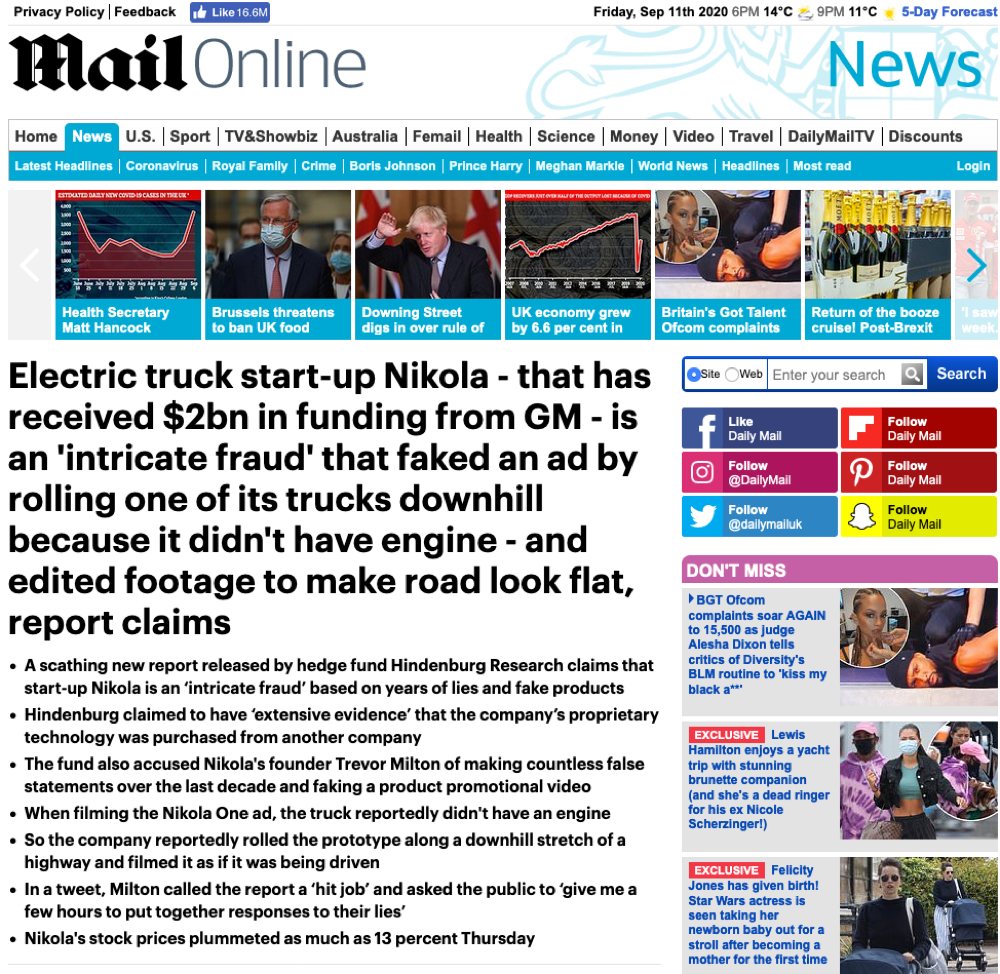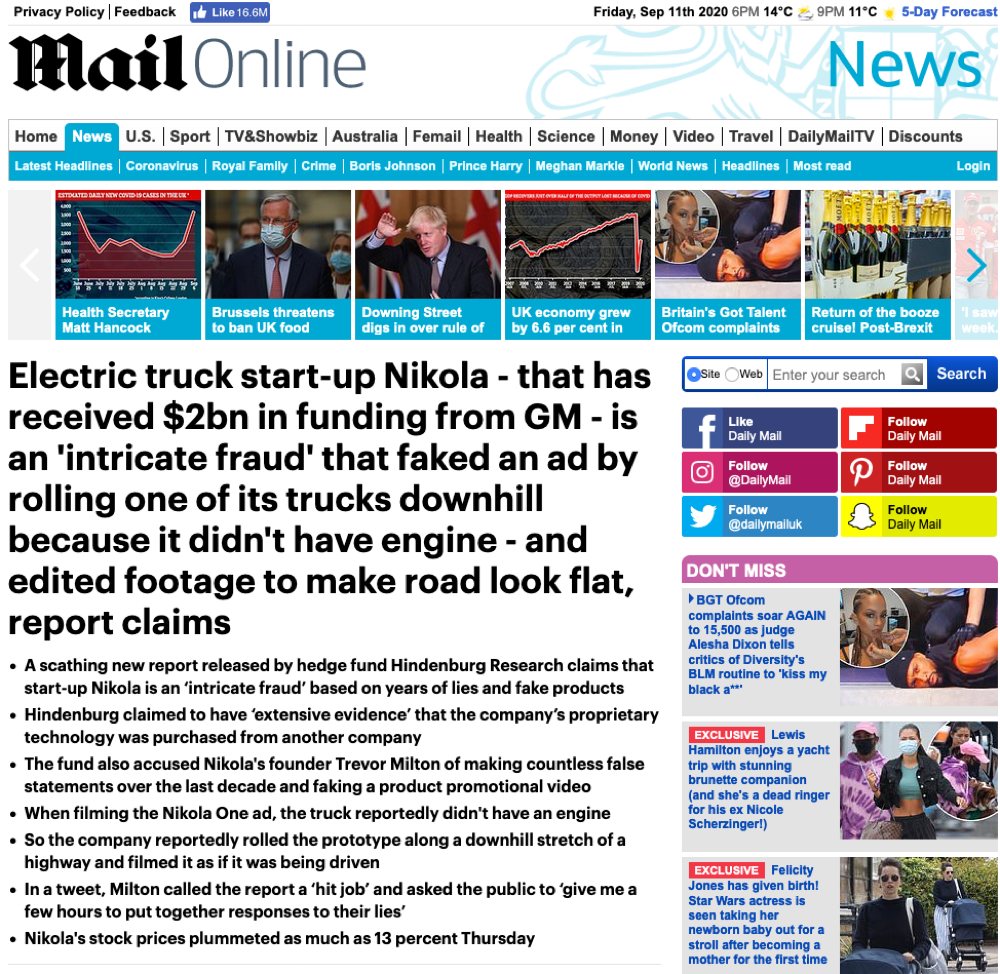 Disclosure – Short Nikola stock via puts.