Evidence that the market can force change far better that rules and regulations dictated by the powers to be / Government. A lesson that Whitehall should learn. People / consumers don't like been forced to change just because they are told to. Far better to offer incentives and nudges and let consumer choose.
Norway has offered strong incentives for motorists to switch to Electric Vehicles with strong tax incentives for electric vehicles. ICE vehicles are subject to a significant tax, and electric vehicles are exempt from that tax. As a result, you can get a much better EV, at any price, compared to price-competitive gas cars. Norway also lets EV use bus lanes and special parking bays making ownership more beneficial than ICE in the city,
Norway plans to outlaw pure Petrol or Diesel vehicles in 2025 – the country with the earliest ICE free deadline and 5 years before the UK's deadline. Norway made that plan back in 2016.
Cliff edge
Sales of Petrol and Diesel car are falling faster that anyone expected. A recent report printed by the Norwegian Automobile Federation's magazine, Motor, the downward trend in sales for ICE cars has been so consistent and steep that the last new ICE car to be sold in Norway could happen just seven months from now, in April 2022.
Norway's Road Traffic Council reports monthly sales figures for all cars sold in the country, so we have accurate reports on just how many new cars of each powertrain choice get sold. In the most recent accounting, cars without any type of electrification made up less than 10% of new car sales, down from about 21% the year prior.
If the trend present for the last few years continues, the trend line will hit zero in April 2022. This is a lot earlier than their 2025 target (which, to be clear, is not a legal requirement yet, more of a soft target agreed upon by Norway's government).
These statistics do count conventional hybrids as "electrified" – somewhat of a strange designation, since they still get 100% of their energy from gasoline – but all of the top vehicles can run at least partially on electricity. And conventional hybrids make up less than 10% of new car sales anyway.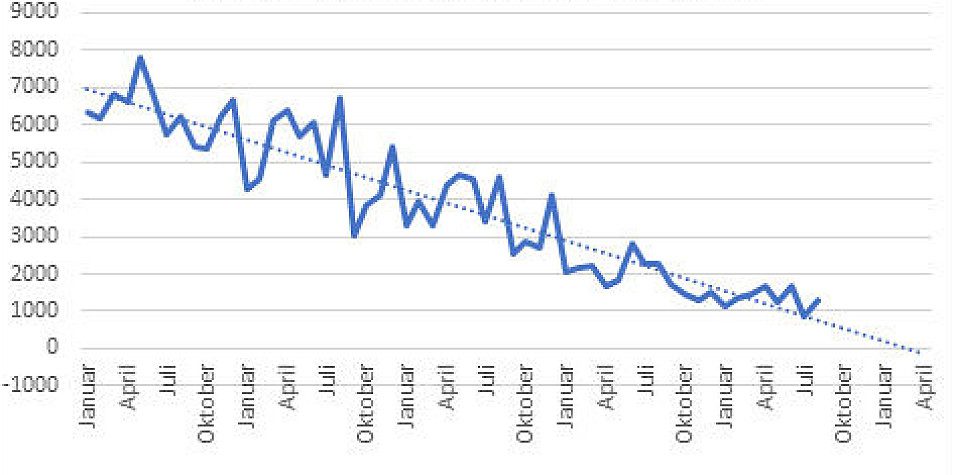 WHERE IS THE BOTTOM? In July this year, petrol and diesel registrations fell below 1,000 cars together for the first time. The dotted line shows the trend for these registrations month by month since January 2017 (the y-axis shows the number of registered cars with internal combustion engines).Source: OFV / NAF
Since the start of this year, 14 of the top 15 cars in Norway are all-electric, with the RAV4 Prime, in second place, as the only plug-in hybrid in the top 15. 16th place goes to the Toyota Corolla hybrid, and we have to look all the way down to 38th place to find the first car without an electric motor in it, the VW Tiguan diesel.
As Motor acknowledges in their article, the very last gas car probably won't be sold in April 2022. Not every car segment has a good selection of vehicles yet, and there are always some exceptions.
But there is a clear trend that outside of these few exceptions or niche vehicles, there will probably not be many mass-market sales of non-electrified vehicles. Norway might even allow limited numbers of gas car sales to continue past 2025, with the expectation that numbers might be small enough that a legislative ban really won't matter either way.
Top 50 car sold in Norway from January to August 2021
Nr
Brand
Model
Driveline
Number 2021
Share in%
1
Tesla
Model 3
Electric car
7 048
6.36
2
Toyota
RAV4
Charging hybrid (B)
6 515
5.88
3
Volkswagen
ID.4
Electric car
5 235
4.72
4
Volvo
XC40
Electric car
4 995
4.51
5
Ford
Mustang Mach-E
Electric car
4,523
4.08
6
Audi
e-tron
Electric car
3 979
3.59
7
Mercedes-Benz
EQC
Electric car
3 301
2.98
8
Nissan
Leaf
Electric car
3 184
2.87
9
Skoda
Enyaq
Electric car
3 148
2.84
10
Polestar
Polestar 2
Electric car
2 799
2.52
11
Volvo
XC60
Electric car
2 309
2.08
12
Peugeot
e-2008
Electric car
2 257
2.04
13
Hyundai
Kona electric
Electric car
2 245
2.03
14
MG
ZS EV
Electric car
2 150
1.94
15
Volkswagen
ID.3
Electric car
1 980
1.79
16
Toyota
Corolla
Hybrid
1 869
1.69
17
Kia
e-Niro
Electric car
1 674
1.51
18
BMW
X1
Charging hybrid (B)
1 472
1.33
19
BMW
iX3
Electric car
1 460
1.32
20
Hyundai
IONIQ 5
Electric car
1 404
1.27
21
Toyota
C-HR
Hybrid
1 404
1.27
22
BMW
i3
Electric car
1 400
1.26
23
Tesla
Model Y
Electric car
1 309
1.18
24
Toyota
Yaris
Hybrid
1 290
1.16
25
Ford
Kuga
Charging hybrid (B)
1 067
0.96
26
Kia
e-Soul
Electric car
1 063
0.96
27
Peugeot
e-208
Electric car
1 054
0.95
28
Audi
Q4 e-tron
Electric car
1 019
0.92
29
Citroën
e-C4
Electric car
1 015
0.92
30
Volvo
XC90
Charging hybrid (B)
960
0.87
31
Mazda
MX-30
Electric car
950
0.86
32
BMW
X5
Charging hybrid (B)
894
0.81
33
Mitsubishi
Eclipse Cross
Charging hybrid (B)
894
0.81
34
Peugeot
3008
Charging hybrid (B)
762
0.69
35
Lexus
UX
Electric car
761
0.69
36
BMW
3-series
Charging hybrid (B)
710
0.64
37
Hyundai
IONIQ Electric
Electric car
706
0.64
38
Volkswagen
Tiguan
Diesel
678
0.61
39
Mercedes-Benz
GLE
Charging hybrid (D)
672
0.61
40
Skoda
Citigoe iV
Electric car
642
0.58
41
Opel
Corsa-e
Electric car
638
0.58
42
BMW
X3
Charging hybrid (B)
635
0.57
43
Mercedes-Benz
EQA
Electric car
628
0.57
44
Skoda
Octavia
Charging hybrid (B)
626
0.56
45
Skoda
Kodiaq
Diesel
625
0.56
46
Volvo
V60
Charging hybrid (B)
624
0.56
47
Skoda
Superb
Charging hybrid (B)
590
0.53
48
Renault
Zoe
Electric car
582
0.52
49
Mitsubishi
Outlander PHEV
Charging hybrid (B)
554
0.5
50
Peugeot
5008 SUV
Diesel
554
0.5
Total all models
110 864
What's driving the rise in EV sales is greater variety in available vehicles and just a general cultural trend toward EVs. Since it's becoming clear that ICE cars are on the way out, nobody wants to be saddled with a vehicle they won't be able to fuel in 10 years. Some Norwegian petrol stations are already replacing pumps with chargers, after all.
Sources: Electrek and Norwegian Automobile Federation's magazine, Moto