According to the China Passenger Car Association (CPCA), Tesla China reported a total of approximately 56,006 units, up 27% month-over-month. In China alone, Tesla sold a total of 52,153 vehicles and exported 3,853 units. The CPCA also reported that Tesla China sold 33,033 Model Y units and 19,120 Model 3 units.
These are large numbers for a factor that did not exist 2 years ago.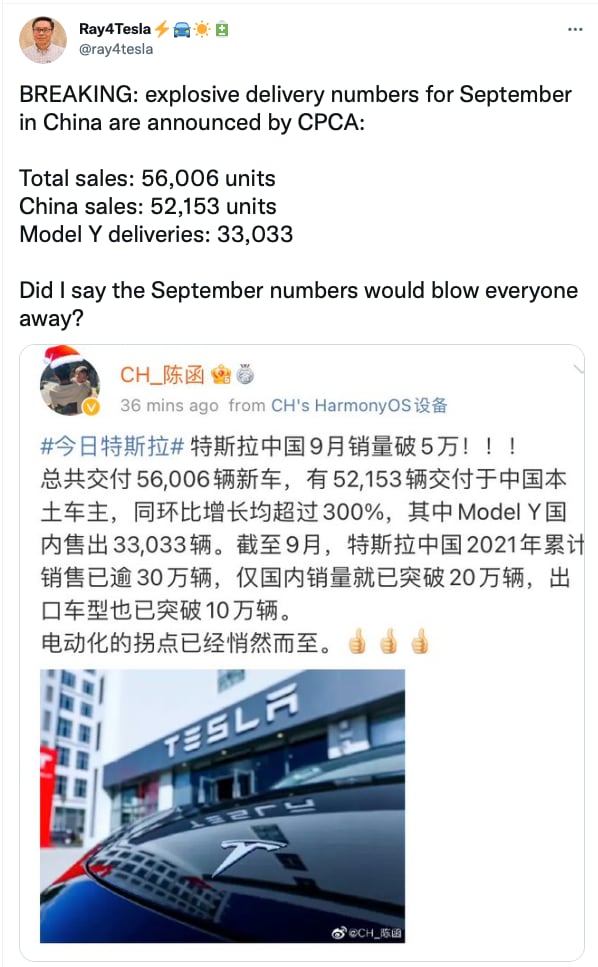 For the third quarter, Tesla produced 237,823 vehicles and delivered 241,300, a marked increase from the previous quarter. So far, in 2021, Tesla delivered a total of 627,350, beating its delivery numbers for all of 2020 already. Last year, Tesla delivered a total of 499,550, missing its set guidance by a sliver.
Tesla did not set guidance this year but stated that it planned to beat 2020's guidance. Tesla did just that with still one entire quarter to go. Tesla's achievement is quite remarkable, considering that the after-effects of COVID still reverberate through the global supply chain.
At this year's Shareholders Meeting, Elon Musk briefly mentioned the cost pressure Tesla continues to experience due to the pandemic. "We are seeing a significant cost pressure in our supply chain. So we've had to increase vehicle prices, at least temporarily. But we do hope to actually reduce the prices over time and make them more affordable," Musk said.
Germany calling
With the new Giga Berlin coming on stream by the end of this year production is only going to ramp as the Model Y takes off in Europe. Musk was at the party last weekend to boost awareness and help kick start recruiting the 10,000 people the plant will employ to bring battery and car production up to volume.
Musk announced this weekend that the production of its electric vehicles at Gigafactory Berlin in Germany would begin in November. The start date is a timely advantage that Tesla has, according to Wedbush analyst Dan Ives, who believes the ramp of production at the Berlin Gigafactory and Gigafactory Texas, also slated for initial manufacturing later this year, will coincide with the scheduled growth of the EV sector over the 12 to 18 months.