Yes, two red Nissan Leafs taking electric power from Sainsbury's Electric Car charge point in Godalming. The store was recently refitted and extended and 10 electric car bays were added to the car park. Today a pair of Nissan Leafs were both charging.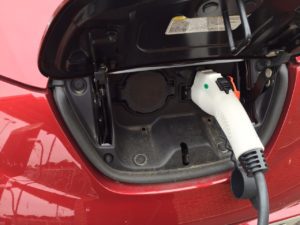 The Nisaan Leaf takes 16Amps as standard and connects to a public charge point with a Type 1 to Type 2 Cable.
During a typical one hour shop the Leaf using the standard 3.3kW charger will take on board enough power for about 12 – 15 miles. A handy boost.