Out of the blue, Tesla has announced that it offered to acquire SolarCity for up to $2.8 billion in an attempt to create a one-stop shop for cleaner energy. Tesla said it offered $26.50 to $28.50 per share for SolarCity. The price is 25% to 35% premium to the solar company's Tuesday close. If the deal goes through, SolarCity will adopt Tesla's name and sell its solar panels alongside power-storing batteries.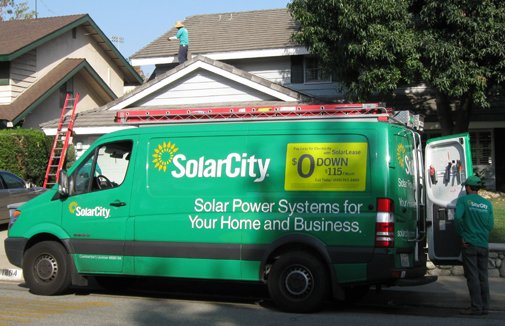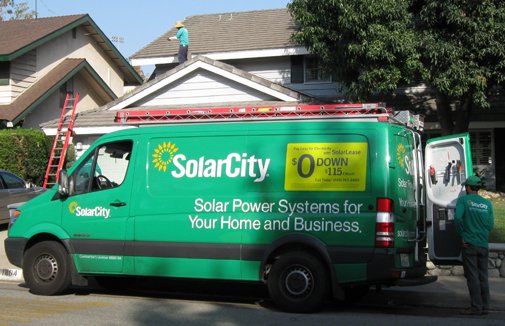 Officially, the Elon Musk reasoning is that suddenly you'll be able to have your solar panels, car charger and battery storage all installed in one go. To this, we're sure to hear serenades on the attractiveness of the energy storage business. A business that is already running massively behind expectations.
Tesla shares plunged more than 13 percent to $189.99 in extended trading – amounting to a loss in value of about $4.3 billion, or more than the value of the offer for the other company. Shares of SolarCity rose about 18 percent to $25.02.
Musk, who is the chairman of SolarCity, CEO of Tesla and the largest shareholder of both companies, described the deal as a "no brainer" in a call with reporters. The company could sell customers an electric car, a home battery and a solar system all at once, he said.
"Instead of making three trips to a house to put in a car charger and solar panels and battery pack, you can integrate that into a single visit," Musk told reporters. "It's an obvious thing to do."
SolarCity has about $6.24 billion in liabilities, including debt.
Although it is the U.S. market leader in residential rooftop solar systems, it regularly posts quarterly losses and the stock has fallen nearly 60 percent so far this year, pummeled by investors who see its business model as too complex in a market that has become increasingly competitive.
Musk said Tesla did not know how many of its customers have solar panels, but guessed that most of them were likely interested in solar. In a blog, Tesla described the deal as a way to expand both companies' markets.
The solar systems will be sold under the premium Tesla brand, which is seeking to expand its target market with a $35,000 electric vehicle called the Model 3 that it will begin delivering late next year.


Musk, who owns 19 percent of Tesla and 22 percent of SolarCity, said he would recuse himself from voting on the deal. He could not say how soon shareholders could vote on the deal, as due diligence needs to take place first.
SolarCity CEO Lyndon Rive, Musk's first cousin, said he supported the deal but would also recuse himself from voting. Rive's brother, Peter, is also a founder of the company and its chief technology officer.
Musk and Lyndon Rive hatched the idea for SolarCity during a trip to the Burning Man desert festival in 2004. Over a decade later, SolarCity has become the top U.S. residential solar installer thanks to a no-money-down financing scheme that allows homeowners to pay for their solar panels through a monthly fee that is less than what they would pay their local utility.
Tesla said it offered $26.50 to $28.50 per share for SolarCity, which represents a premium of about 25 percent to 35 percent to the company's Tuesday close of $21.19. That values the deal at about $2.6 billion to $2.8 billion overall.
In a statement issued late Tuesday, Tesla said its management will host a conference call to discuss the 'rationale' surrounding the offer to buy SolarCity. The conference call is scheduled to take place Wednesday morning before U.S. markets open.
From Tesla Announcement:


The Tesla Team June 21, 2016
Tesla's mission has always been tied to sustainability. We seek to accelerate the world's transition to sustainable transportation by offering increasingly affordable electric vehicles. And in March 2015, we launched Tesla Energy, which through the Powerwall and Powerpack allow homeowners, business owners and utilities to benefit from renewable energy storage.
It's now time to complete the picture. Tesla customers can drive clean cars and they can use our battery packs to help consume energy more efficiently, but they still need access to the most sustainable energy source that's available: the sun.
The SolarCity team has built its company into the clear solar industry leader in the residential, commercial and industrial markets, with significant scale and growing customer penetration. They have made it easy for customers to switch to clean energy while still providing the best customer experience. We've seen this all firsthand through our partnership with SolarCity on a variety of use cases, including those where SolarCity uses Tesla battery packs as part of its solar projects.
So, we're excited to announce that Tesla today has made an offer to acquire SolarCity. A copy of Tesla's offer is provided below.
If completed, we believe that a combination of Tesla and SolarCity would provide significant benefits to our shareholders, customers and employees:
We would be the world's only vertically integrated energy company offering end-to-end clean energy products to our customers. This would start with the car that you drive and the energy that you use to charge it, and would extend to how everything else in your home or business is powered. With your Model S, Model X, or Model 3, your solar panel system, and your Powerwall all in place, you would be able to deploy and consume energy in the most efficient and sustainable way possible, lowering your costs and minimizing your dependence on fossil fuels and the grid.
We would be able to expand our addressable market further than either company could do separately. Because of the shared ideals of the companies and our customers, those who are interested in buying Tesla vehicles or Powerwalls are naturally interested in going solar, and the reverse is true as well. When brought together by the high foot traffic that is drawn to Tesla's stores, everyone should benefit.
We would be able to maximize and build on the core competencies of each company. Tesla's experience in design, engineering, and manufacturing should help continue to advance solar panel technology, including by making solar panels add to the look of your home. Similarly, SolarCity's wide network of sales and distribution channels and expertise in offering customer-friendly financing products would significantly benefit Tesla and its customers.
We would be able to provide the best possible installation service for all of our clean energy products. SolarCity is the best at installing solar panel systems, and that expertise translates seamlessly to the installation of Powerwalls and charging systems for Tesla vehicles.
Culturally, this is a great fit. Both companies are driven by a mission of sustainability, innovation, and overcoming any challenges that stand in the way of progress.
Today's offer to acquire SolarCity is only the first step toward a successful combination of Tesla and SolarCity. We will provide a further update if and when an agreement is reached.