Tesla sales and production were hurt by the Covid-19 pandemic and lockdowns. But not as much as some other automakers.The EV car and energy company reported Thursday it delivered 90,650 cars to customers during the quarter. That's down 5% from a year ago, but far less than the drops of 30% or more reported by other automakers.Tesla's second-quarter sales were up a bit from the 88,400 cars it delivered in the first quarter.
| | | | |
| --- | --- | --- | --- |
| | Production | Delivered | |
| Model S/X | 6,326 | 10,600 | |
| Model 3/Y | 75,946 | 80,050 | |
| Total | 82,272 | 90,650 | |
Production was down, though, falling 20% from the first quarter, as Tesla's factory in Fremont, California, was shut for a couple of months. CEO Elon Musk strongly objected to the orders to remain closed, calling stay-at-home orders "fascist" in a call with investors in late April. Tesla filed a lawsuit to get the factory open once again in mid-May.
The solid sales number was good news for those hoping that Tesla would be able to maintain its path of profitability despite the Covid-19 pandemic. Tesla's stock, which had been up 6% in premarket trading before the sales and production release, climbed even higher on the news.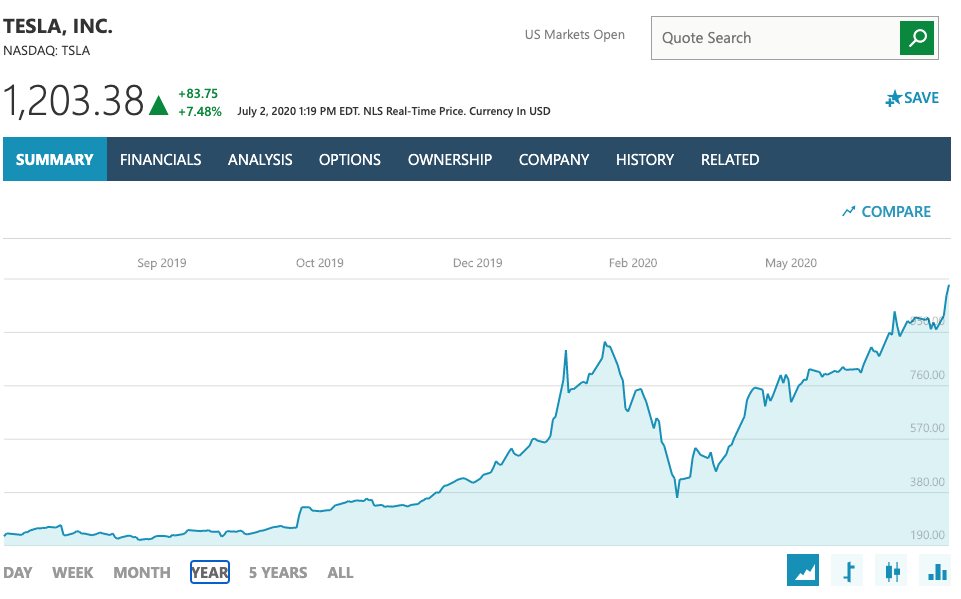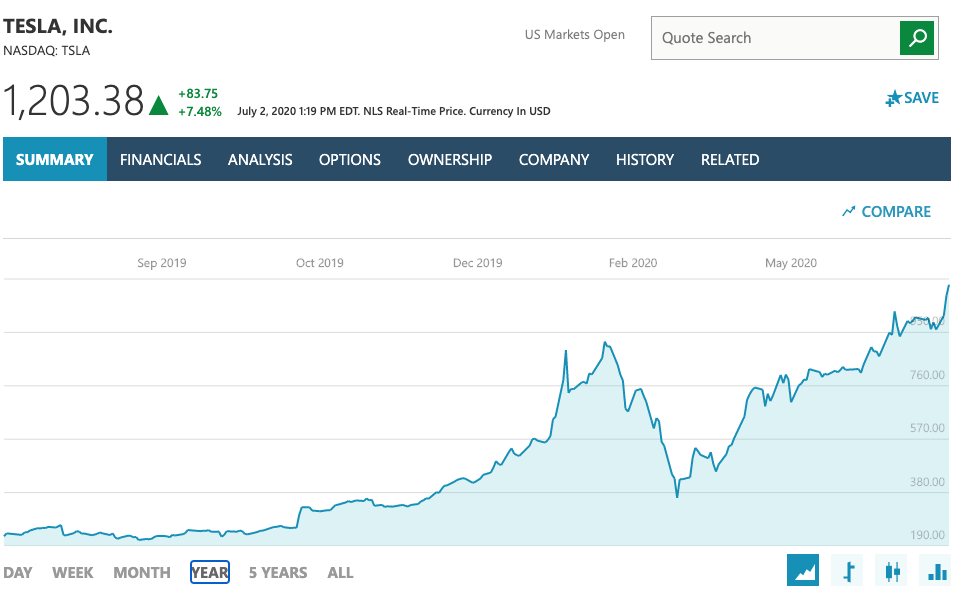 Tesla became the world's most valuable automaker on Wednesday, when the market capitalisation surpassed Toyota's for the first time.
Shares of Tesla gained 5% to hit a new all-time high of $1,135, giving the company a valuation of roughly $206.5 billion, compared with Toyota's valuation of about $202 billion.
The milestone underscores the vast investor enthusiasm for Elon Musk's automaker, which has yet to turn a profit on an annual basis. The stock has more than doubled this year, surging 170%, as investors continue to pile into the electric car maker.
While Tesla may have exceeded Toyota on market value, it lags the Japan-based company by a wide margin on actual car production.
For the period ended March 31, Tesla said it produced about 103,000 vehicles — 15,390 Model S and X and 87,282 Model 3 and Model Y vehicles. In the same period, Toyota produced 2.4 million vehicles.
Additionally, when looking at each company's enterprise value, which includes debt, Toyota's $290 billion value exceeds Tesla's $252 billion, according to FactSet data through March.
While investors have sent shares soaring, some on the Street believe the stock, which trades at more than 300 times full-year earnings, isn't supported by the underlying fundamentals.
"We continue to be cautious on Tesla, but anything EV related is red-hot for investors now and there is a scarcity of ways to invest in the theme, thus we see the stock continuing to 'work' near-term despite our caution on competitive positioning over time and valuation,"
Cowen analyst Jeffrey Osborne said in a note to clients Tuesday night, while reiterating his underperform rating on the stock.
Read full production report on Tesla website: