The days of old smelly Taxis in London may just be starting to end with the introduction of an all Electric Taxi.

The all Electric Taxi is now fit for purpose after TFL give it the thumbs up to operate on the city streets.
You may recall that the London Taxi firm was rescued by Geely, a Chinese venture after falling on hard times.
However, today marks a momentous milestone in the life of the London taxi: LEVC (London EV Company)'s all-new electric TX taxi is now fully certified to carry fare-paying passengers. For the first time Londoners will be able to ride through the city's streets in incredible comfort with technology at their fingertips, safe in the knowledge that they are sitting in the world's cleanest, most advanced taxi ever.
The new TX is a revolution for passengers who should expect unrivalled ride comfort, class leading wheelchair accessibility, air conditioning, phone charging and a much more spacious cabin with six seats. Features abound including wide opening rear hinged doors, power sockets for laptops, on-board wifi, contactless card machines and an expansive panoramic roof.
Chris Gubbey, CEO of the LEVC, said:"After extensive testing, LEVC's new taxi is ready to do the job it was made for: transport people around this great city of London safely, cleanly and stylishly. Better for passengers, more cost-effective for drivers, it will play a major role in helping to improve air quality benefiting all Londoners. I am immensely proud of the work we have carried out so far: we have produced a new icon, the world's most advanced electric taxi."
Having been put through the most rigorous testing regime in the company's history, including extreme weather conditions in the Arctic Circle and Arizona, plus thousands of miles in the hands of real cab drivers in London, the new TX is ready to go to work – ahead of TfL's January 2018 deadline when all newly licensed taxis need to be zero emission capable.
Shirley Rodrigues, Deputy Mayor for Environment and Energy, said: "These new electric taxis are at the forefront of green transport technology and will play a transformational role in the Mayor's plan to phase out diesel and clean up the transport network. This will help to accelerate improvements to London's toxic air.
"It's great to have the first electric taxis on London's streets and a testament to London's leadership and that of LEVC. I look forward to seeing many more taxis on London's street in the coming months".
This landmark moment was celebrated at Circus West Village, the first phase of the Battersea Power Station regeneration, which is now open. The entire site has been designed to futureproof for a mass adoption of electric vehicles with the infrastructure for almost 1,000 electric charging points planned and the flexibility to increase that. The first 57 charging points are now available for use at Circus West Village. The Grade II* listed Power Station building and its surrounding areas is being transformed into a community of homes, shops, offices, restaurants and public space – a vibrant, new town centre for Londoners. Like the TX, both icons blend old and new and are being redesigned for 21st century living, and have a major role to play in the future London landscape.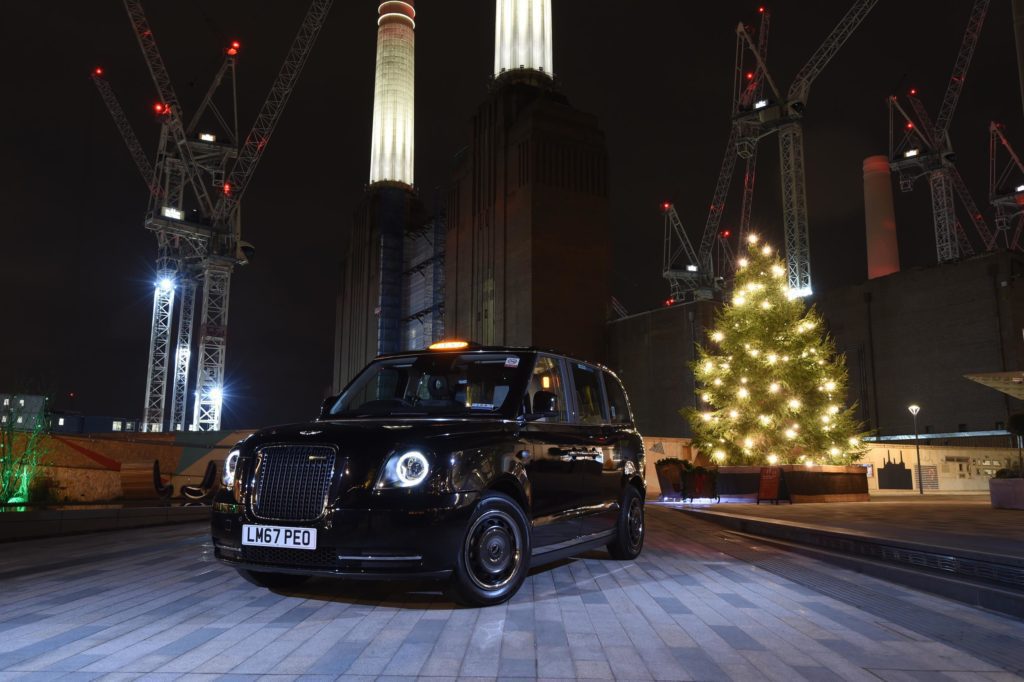 All LEVC products use its eCity technology consisting of an advanced battery electric powertrain with a small back-up petrol generator. Applied to the all-new electric TX, the technology allows for a range of up to 400 miles including 80 miles pure electric range.
Unlike the previous taxi, the vehicle's multi-filter system works to remove gases and particles from the incoming air. In addition, an in-built air quality sensor also automatically closes the external air intake if it detects increased levels of pollution in the outside air – protecting passengers, and the driver, from the capital's often poor-quality air.
World-class active and passive safety systems will help to protect both the vehicle and other road users too. These include forward collision warnings, autonomous emergency breaking and emergency brake assistance, while the TX combines an extremely strong, rigid aluminium body shell with crash protection to the highest international standards, reinforcing the black cab trade's reputation for safety.
Carl-Peter Forster, Chairman of the LEVC, said: "There have been many milestones on this journey, from opening a brand-new factory in the heart of the UK – the first brand new automotive manufacturing facility in Britain for over a decade; the first dedicated electric vehicle factory in the UK – to today's announcement that our new TX has passed all certification tests and is now able to carry fare-paying passengers. It will save drivers money, bring new levels of comfort and convenience to those who hail one and provide the safest and cleanest way of getting around a city by taxi. And this is just the start. We will deliver new TX models in Europe later in 2018 – and across the world. Our goal is to be the global, automotive leader in urban commercial vehicles. We are well on our way to achieving that."
LEVC has received thousands expressions of interest in London for the new electric TX since order books opened on August 1st 2017 and the first electric TX models will arrive in the hands of drivers this month. The vehicle is currently available for test drive and those who have placed orders will start receiving their vehicles in due course.
Underpinned by an investment totalling £325m, LEVC, a wholly-owned subsidiary of Geely, has the single-minded ambition to be the urban commercial vehicle provider of choice for cities across the globe. Its commercial vehicle strategy will see the new TX launched first followed by an electric LCV.