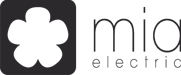 mia electric is a Franco-German company, which is committed to providing modern and environment-friendly mobility in individual towns and larger metropolitan areas. At the heart of its activities is the mia, a practical compact car with an electric powertrain.
Founded in June 2010, mia electric is composed of the French mia electric sas and the German mia electric GmbH.
The company is based in Western France, in Cerizay, Deux-Sèvres, where the cars are produced in the factory formerly owned by the renowned French automobile manufacturer Heuliez. mia electric has absorbed part of the workforce and the know-how of the insolvent Heuliez consortium, which has been engaged in the automobile sector for over 80 years and has been gaining unparalleled experience worldwide in the field of e-mobility since the 1990s.
The production programme included the electric car versions of the Peugeot 106 and the Citroën Saxo for the French town of La Rochelle.
The first vehicle is now available: