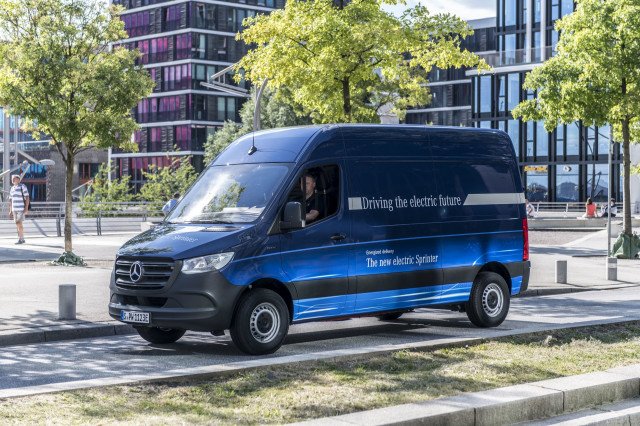 The eSprinter all-electric van will have a range of up to 150 km (93 miles) and a maximum payload of 1,000 kg (2,200 lbs).
The Mercedes Benz will be offering the van with two battery pack options: 55 kWh for the max range of 150 km (93 miles) and 41 kWh for a range of 115 km (71 miles).
The battery pack feeds an electric motor with "an output of 84 kW and a torque of up to 300 newton metres" with a limited top speed of 80 km/h (50 mph) to maximize range or 120 km/h (75 mph) otherwise.
It's fairly short as far as range, but the company says that it is especially for "inner-city traffic."
Volker Mornhinweg, Head of Mercedes-Benz Vans, commented:
We are utterly convinced by the electric drive in our vans, especially in inner-city applications. At the same time, the electrification of the commercial vehicle fleet is in no way an end in itself. In terms of commercial feasibility, it's subject to exactly the same principles as classic drives. With our [email protected] initiative, we're showing that only holistic solutions extending beyond the powertrain itself present a real alternative for commercial customers. The new eVito is the starting point. It will be followed by the third generation of the Sprinter and the Citan, too
It is offered as a high roof panel van with a permissible gross vehicle weight of 3500 kilograms, a vehicle length of 5932 millimetres, a wheelbase of 3924 millimetres and a maximum load capacity of 10.5 m3.
Mercedes-Benz says that the model could be useful as a passenger shuttle or as a delivery vehicle in cities.
The company didn't confirm the price, but they did say that the procurement cost will be higher than their ICE Sprinter vans, the higher price will be offset by the lower cost of operations.
Benjamin Kaehler, Head of eDrive VANs at Mercedes-Benz Vans, commented:
"The total operating costs must be at the level of a comparably equipped vehicle powered by a diesel engine – the eSprinter and the eVito meet this basic requirement. Electric models can only be competitive in commercial operations if using them makes economic sense. The higher procurement costs are offset by lower energy and maintenance costs, as well as tax savings,"
Mercedes-Benz Vans says that they are investing 150 million euros in the electrification of their lineup.
See Merced Benz Website for more details: