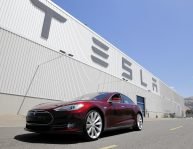 Last week Tesla released plans to raise an additional $1.15 billion from a stock and notes sale. CEO Elon Musk plans to purchase 96,900 shares of common stock, which is worth approximately $25 million at the public offering price.
The company says the cash infusion will be used in part to " strengthen its balance sheet and further reduce any risks associated with the rapid scaling of its business due to the launch of Model 3, as well as for general corporate purposes.,"
Elon Musk said
"According to our financial plan, no capital has to be raised for the Model 3. But we get very close to the edge, then that's probably not the very best thing for shareholders on a risk adjusted basis so we are considering a number of options, but I think it probably makes sense to raise capital to reduce risk."
The Model 3 will be new territory for CEO Elon Musk and Tesla as a company. The Model 3 — which, at a cost of around $35,000, will be something close to the electric carmaker's first mainstream offering — has already received at least 400,000 pre-orders. Musk has said the company plans to produce 5,000 vehicles per week by the fourth quarter of this year to start meeting that demand, then ramp things up to 10,000 vehicles per week sometime next year. As a comparison 5,000 cars per week is 260,000 per year while 10,000 per week is half a million cars per year.
That'll be a big jump for a company that's delivered just 183,000 of its two current models, the higher-end Model S and Model X, over the past five years combined.
See chart below of last two years sales and deliveries.